---
---
---
| Delivery Start | Basis | Futures Price | Futures Change | Cash Price | Basis Month | Notes |
| --- | --- | --- | --- | --- | --- | --- |
| Corn | | | | | | |
Quotes are delayed, as of May 13, 2021, 01:31:27 AM CDT or prior.
All
grain prices
are subject to change at any time.
Cash bids are based on 10-minute delayed futures prices, unless otherwise noted.
---
---
---
---
U, U (56159)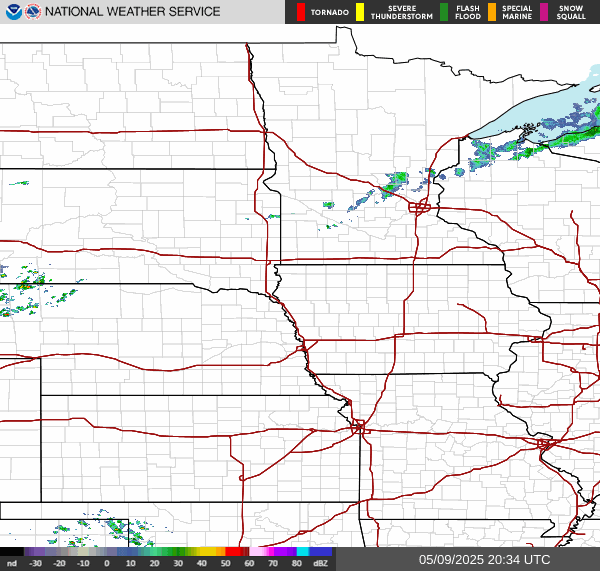 ---
Forecast
---
---
---
Lean Hogs Higher at Close

Midweek lean hog trading came to a close with front month futures bouncing back from early week weakness. Prices moved 32 to 90 cents higher, but June is still about $3 from the LOC high. USDA's National Average Base Hog price for Wednesday PM was a $1.67 weaker to $115.73....

Wednesday Wheat Weaker at Close

Domestic wheat futures closed the midweek session with double digit losses from sell the fact report response. CBT SRW prices were 11 1/4 to 12 cents in the red. KC HRW futures were down the most with Wednesday losses of 2.5% to 2.8%. Minneapolis wheat futures pulled back from initial...

Cattle Market Stronger on Wednesday

Fat cattle futures closed the midweek session with gains of 15 to 40 cents. June fats pulled back from strong midday gains to close with a 2 cent loss. Cash cattle sales reported on the FCE ranged from $119.25 to $120.25, with the wtd average for the 1,588 head at...

Cotton Closes off Highs but still in Black

Afternoon cotton trading had futures pull back from early session highs. Futures were still in the black at the close with gains of 13 to 48 points. USDA has the new crop cash average cotton price at 75 cents/lb, and left the 20/21 cash price at 68. The May reports showed...

Beans Higher on Wednesday

Soy futures never got back to pre report highs, but still ended the day 11 1/4 to 27 3/4 cents in the black. Old crop beans had widened the inverse further as July closed $2.61 3/4 cents above November. Soymeal futures closed $1.30 to $1.80 higher on the day. BO...

Corn Closes Weaker on Wednesday

Following the USDA updates, corn futures ended the midweek session in the red. USDA's old crop cash average price was upped a nickel to $4.35. New crop futures closed the session with double digit losses led by an 18 1/4 cent pullback in Dec. The projected cash average price for...
---